Nerf Wars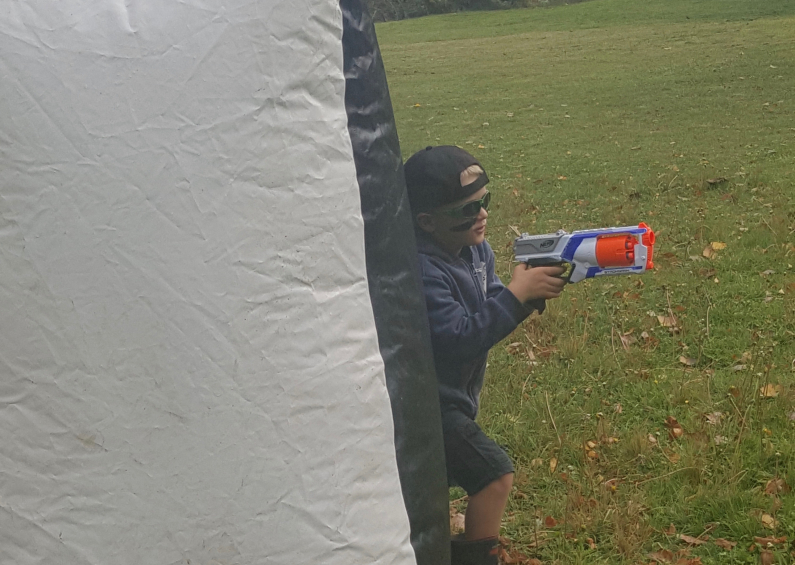 The Playground is excited to announce we are adding Nerf Wars to our ever-expanding list of awesome group activities!
Unlike all our other activities, that are designed for participants aged 10 years and older to enjoy, Nerf Wars is targeted exclusively at kids aged between 5 and 14 years old. Sorry adults and big kids, but you'll have to sit this one out!
Most kids know what a Nerf gun is and have probably had a ball shooting them at their friends, siblings, neighbours and parents! We've designed our Nerf Wars battle zone, to be a fully safe environment for groups of kids to let rip and go all out, in the name of fun.
At The Playground, we've set up different game scenarios for players to enjoy and send the children out armed with a Nerf gun and bullets, to try and beat the other team. Of course, we haven't forgotten safety, though and sunglasses are worn by all players, for eye protection and they have the option to use our man-made bunkers for cover, while carrying out their missions.
Nerf Wars is available in School Holidays and Term Breaks, at set session times, with 20 player spaces available per session. Players will be divided into two equal teams, to see who returns victorious!
Nerf Wars can also be booked as a private session for birthday parties, at other times during Term Time.
When playing Nerf Wars, there are a few key things to be aware of, to avoid disappointment on the day:
All participants and spectators must bring along a pair of sunglasses, which must be worn at all times during the Nerf Wars session.

A parent or guardian (aged 16 years+) must be present for the whole session, while the Nerf Wars battles are being played.

Only the Nerf guns provided by The Playground can be used during the actual game. Feel free to bring your own gun along to show off during the breaks, but it'll need to stay on the sidelines when you go into battle. This is to make things fair for all players.