What Is This Archery Game?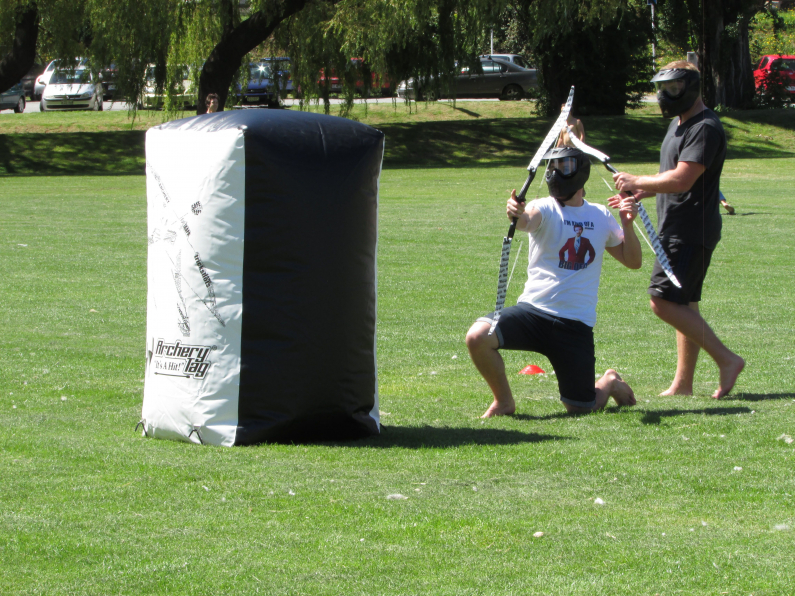 All you know is that it's a cross between dodgeball and paintball. It's normal to be a little hesitant. After all, what even is Archery Combat?!
Not many people have heard of Archery Combat before they visit The Playground and it's normal to worry about the unknown. But, we can guarantee that as soon as you've got your hands on a bow and shot your first foam arrow, there'll be no turning back!
When you turn up to The Playground, you'll get a safety briefing and be shown how to use our bows and arrows. Then, after a few practice shots to check you can fire the thing, you'll be split into two teams and sent out onto the field.
Hold up.... we missed out one key thing - you aren't actually allowed to start with an arrow! So what's going on?!
In Archery Combat you must earn your arrow. Starting behind the bunkers, with only your bow and mask, soon as the whistle blows, everyone has to run and collect an arrow from the middle of the field. This is a battle field like no other, where only the best survive!
Once you've grabbed your arrow, as you dash back to safety, you'd better watch out - arrows are already flying everywhere! Flashbacks of games in the school yard come rushing back and adrenaline is already starting to pump. Not only do you have to remember how to load and fire the arrow, while avoiding being shot but you've also got to start planning your strategy to retrieve your next missile!
Before you know it, team members have been hit and are waiting on the sidelines, counting on you to get them back in. Now the pressure is really on!
While dodging what seems like an endless rain of arrows, you'll have either hit the remaining enemy targets on the field, or catch an arrow mid-flight, in order to get your whole team back in. Shooting the targets sounds easy enough, but can you do it?!
Just when you think you have that awesome shot, out of nowhere you are hit flush between the eyes (that explains why you need the mask!) Now it's your turn to sit on the sidelines and wait. Let's just hope your team mates can repay the favour and get you back in, too.
With the opposition aiming arrows and banter your way and clandestine conversations with your teammates, whilst hiding behind shields, trying to come up with a winning game plan, things will start to get competitive in no time.
With this high energy, high speed, high risk battle of the wits, we know you'll be hooked in seconds!