The Best Hassle-Free Stag Do Option in Queenstown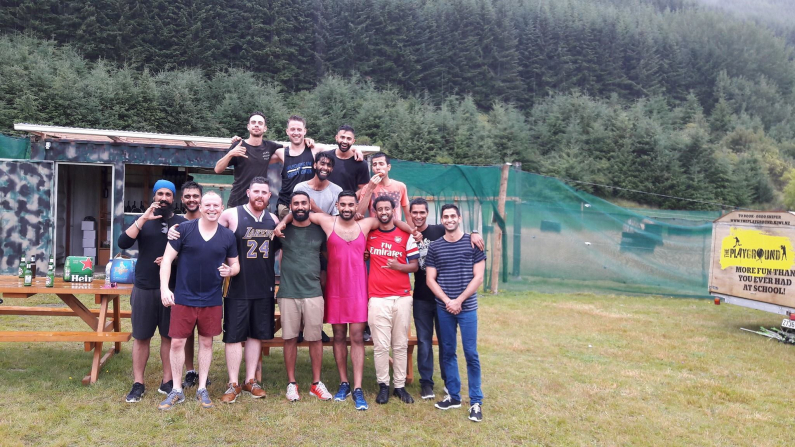 We can make planning a Stag or Buck's Do easy as, for you. Want simple and hassle free? You've come to the right place!
Not only will we make your role of Best Man and party planner a piece of cake, by doing all the hard work for you! But, best of all, you'll get to take all the credit for organising the awesome day and the Groom-to-be will owe you, big time!
We know that Stag and Buck's Do's can get a little pricey, so, for just $130 per person, we've made things easy at The Playground. You can book our Total Stag Pack, which includes around 5 - 5.5 hours of pure, unadulterated fun!
If you purchase the Total Stag Pack, you can basically sit back and relax - until you get to our site, of course! We'll even pick you up from Queenstown and bring you out to The Playground, so that no one has to take the role of sober driver. When you get out to our awesome site, at the base of Coronet Peak, your group will split up into teams and get to battle it out playing Archery Combat, Bubble Soccer and Paintball. We'll even give you 400 paintballs to blast the Buck with, so he doesn't forget just how much fun his Stag Do was!
After all the adrenaline, your group can then chill out in our free to use BBQ area and enjoy the beers and food you bought along with you. After the laughter's died down and the bottles are empty, we'll drop you back into town, or back to your accommodation, to continue your evening and the rest of your celebrations. That's one fantastic day in the bag!
It really is that easy! And, to make things even simpler, you won't even need to give us exact numbers at the time of booking, a close ballpark figure will be fine until closer to time, to allow everyone to secure their travel bookings and organise time off work, to join the party! We don't advise leaving it too late to book, though, especially if you want to bring your group on a Saturday - we'd hate for you all to miss out!
It's super simple to book the Total Stag Pack, too. Just flick us an email with the date you'd like to have your Stag Do, the time of day you'd like to come and whether you'd like to book individual activities, or go for gold and choose the Total Stag Pack. We'll reply with availability and deposit details and your life will suddenly be a whole heap easier! Choice!
If you like this idea but $130 is a bit out of your price range, drop an activity from the combo, or drop to 200 paintballs instead of 400, or check out our other activity prices, to come up with something that suits your budget. If you'd like some help making a decision, give Penny a call on 0800 SNIPER or +6421545574 and we promise she'll help make those difficult decisions much easier.
The Total Stag pack, one fantastic location, 3 hilarious activities, free transport and free BBQ facilities, this is why The Playground is the best option when planning hassle free stag do in Queenstown.